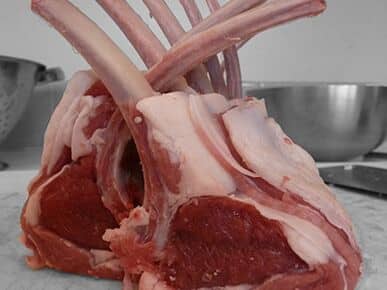 We sell only domestic lambs, from Superior Farms in Dixon, California. We carry the most commonly requested lamb parts as listed below. We can also get whole lambs and if requested, will cut and wrap to a customer's specifications. Please call for availability of products as not all items are available at all times.
In the United States we tend to label all lamb meat as lamb, but in all actuality lamb meat has three general classifications: Lamb – is 12 months or younger in age and doesn't have any permanent incisor teeth in wear. Hogget – is 12 months or older, but has no more than 2 permanent incisor teeth in wear and can be either sex. Mutton – is an adult with 2 or more incisor teeth in wear and can be either sex.
Lamb meat can taste sweet and tender, but it also depends on where the cut of meat comes from. A lamb is often slaughtered between one month and one year, weighing between 12 and 65 pounds. Hogget and Mutton have a stronger and gamier taste than that of lamb, this is because older sheep contain a higher concentration of species specific fatty acids and the meat tends to be tougher and therefore it is best suited for stews, soups and casseroles.
When lamb is butchered it is usually sorted into 3 types of meat: forequarter, hindquarter and loin. The forequarter is the front third of the lamb and includes the neck, shoulder, ribs and front legs. The hindquarter includes the hip and rear legs and the loin is everything in between the two. In the U.S. (Ireland also) you can often find lamb meat labeled as such:
Square cut shoulder – chops, shoulder chops and shoulder roast
Rack – rib roast, rib chops and riblets
Loin – loin chops or Roast
Leg – leg of lamb (roast), sirloin chops
Neck
Breast
Shanks (forequarter or hindquarter)
Flank
Lamb meat lends itself to many cooking styles such as roasting, grilling, broiling, barbequing, pit roasting, spit roasting, braising, soups and stews, all depending on the cut of meat.
Chops
Small Loin
O-Bone
Rib
Sirloin Boneless
Sirloin Bone-In
Shoulder
Center Cut Leg Steaks
Crown Lamb Roast
Cubes
Ground Lamb Chuck, Bulk
Ground Lamb Chuck, Patties
Whole Lamb
Effective March 13, 2017
(subject to change without notice)
To Order: You can either call, or come in to order your lamb.
A $50.00, non-refundable deposit and a minimum one-week notice is required.
Lambs are whole only, no head. Add $0.10/lb. with head.
Cut and Wrapped – $50.00 additional charge
Whole Lamb Weight & Price
CALL FOR CURRENT PRICE (916)782-2705