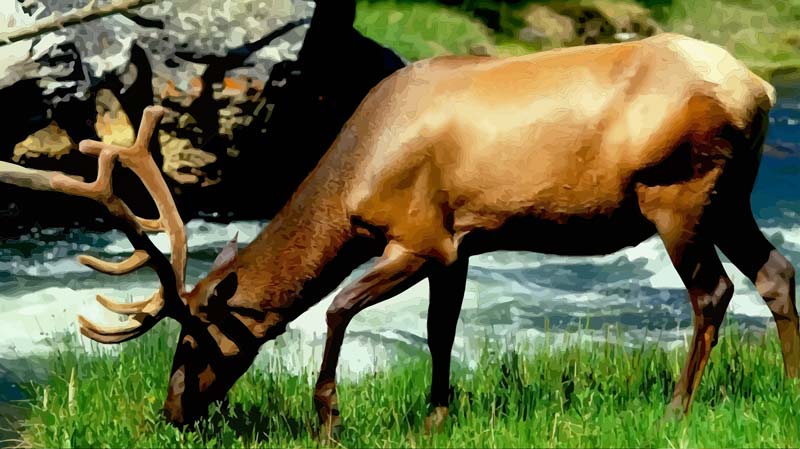 Policies and Estimated Yields
Game and Hog Processing Fees
Do you have Wild Game that needs to be processed? At Roseville Meats, we will process your game with the highest standards possible. All our orders are tagged and processed individually. All final product is freezer-safe in vacuum-sealed packaging.
Animals will be accepted until 30 minutes before closing
Game and Hog Processing Fees
Prices are subject to change without notice
Prices include all cutting, wrapping, and grinding (straight grind only)
Packaging for single serving – add $0.30/lb.
Prices are Per Animal
Deer
Under 63 lbs. ­ $1.95/lb., $50.00 minimum – Boneless
64 lbs. to 100 lbs. ­ $125.00 flat fee –Boneless
Over 100 lbs. ­ $1.39/lb. –Boneless
Elk
All weights ­ $1.39/lb., $139.00 minimum
Hogs
30lbs.or less ­ $55.00 flat fee
31 to 99 lbs. ­ $109.00 flat fee
100 lbs. & up ­ $1.19/lb.
Curing and Smoking
$1.29/lb., $10.00 minimum
Sausage
$0.40/lb.
Italian Sausage
$0.99/lb.
Links
$4.29/lb.
Lambs
$109.00 Flat Fee
Goats
$99.00 Flat Fee
Miscellaneous Charges
In addition to above processing charges
Skinning
Deer: $69.00
Elk: $95.00
Skinning for Caping
Deer: $100.00
Elk: $125.00
Rack Removal
$7.50
Salami
$4.99/lb. based on finished weight (5 lb. min.)
Eg: 10# start weight will net approx. 10 lb.
Snack Sticks
$6.39/lb. based on finished weight (5 lb. min.)
Eg: 10# start weight will net approx. 6­-7 lb.
Jerky
$10.00/lb. based on finished weight
Eg: 10# start weight will net approx. 3.8 lb.
Game Sausage
$2.29/lb. – includes seasoning and 20% pork
Grind Only
$1.59/lb. – Bulk Package ($10.00 minimum)
$2.09/lb. – 1 lb. packages ­ ($15.00 minimum)
Add 20% beef fat: add $0.99/lb.
Game Italian Sausage
$1.99/lb. – Bulk Package ­ $10.00 min. (5# package)
$2.79/lb. – 1 lb. packages ­ $15.00 minimum
$5.29/lb. – Links, Raw
$6.39/lb. ­ Links, Smoked
Policies and Estimated Yields
Yields
We have conducted cutting tests on a number of deer to determine what an average yield of each cut might be. Depending on the starting condition of a deer, you can expect an average yield of starting weight as follows:
Backstraps: 5%
Shoulders: 4%
Back Legs: 10%
Tenderloins: .007%
Trim: 41%
Waste: 37%
Weights
Animals are weighed at time of arrival. This weight determines cost of processing. Animals will typically lose 3­5# in moisture loss while hanging.
Tags & Licenses
Presentation of tags and licenses are required prior to acceptance of animals
Deposit
A $50.00 deposit is required at time of drop off – deposit applied to final charges.
Completed Orders
All orders are to be picked up within 10 days of notification of completion or a storage charge of $10.00 per week will be applied. Animals not picked up within 30 days of notification will be considered abandoned and disposed of accordingly without refund of deposit.
Rack Storage
$5.00 per week, two week maximum
Waste Disposal
$10.00 fee for disposing of hides or internal organs (unless we skin the animal)
Hang Only
$15.00 per week – one week maximum
Ground Products Disclosure
RMC reserves the right to batch process all ground products (straight grind, burger, salami, and sausage) ­ meaning trim from multiple animals will be combined and processed together.
Cutting Loss
Loss from cutting and shrinkage can range from 30% to 50% depending on starting condition of animal. Animals may incur moisture weight loss while waiting to be cut.
Animal Quality
We are not responsible for the quality or nutritional value of your animal. All heat soured or bloodshot product will be disposed of based solely on our observation of the animal. You will be informed of any excessive loss.
Refusal
We reserve the right to refuse any animal for any reason.
Out of State Animals
Meat must be removed completely from the spinal column; from the head all the way and including the tail bone. We will not accept any out of state animal not properly deboned.