About Roseville Meat Company



Our Company History
The "Roseville Frozen Food Bank" was built in 1946 by Mr. Allen F. Newell and an unknown partner and was primarily a processing plant for home grown farm animals such as beef, hogs, lambs, etc. The store provided old fashioned smoking of hams, bacon, etc. utilizing a special room outside the back of the building. That building continued to serve as a smokehouse for custom orders until December, 2005 when it finally gave out. (see "What's New" (link)for information on our new smokehouse).
The freezer space provided lockers for rent as home refrigerators and freezers were not common in those days. Those same lockers from 60 years ago are still in use today.
A large portion of what is now the retail lobby was actually a room dedicated to making ice for the railroad and for customers (that's why there is a bump in the floor).
In approximately 1966, Dorothy and Emmett Gabbett purchased the business from Mr. Newell and operated it until 1977 when our family, Harry and Joan McKinley, purchased it. Harry had been a butcher since he was 18 years old, learning the trade in Iowa and together with the help of Joan enthusiastically transformed the business from primarily servicing custom processing to a full retail operation.
In 1979, Harry and Joan welcomed Phil Uribe, their son-in-law, into the business and together they operated it until they asked the next son-in-law, David Henry to join them in 1984. The four of them and a few employees worked hard to grow the business and survive in an exploding Roseville until 1995 when Harry and Joan retired. Phil and David operated as partners until 1999 when Phil chose to pursue a career as a teacher. Today, the business is owned by David and Joyce (McKinley) Henry with the invaluable support of eight employees.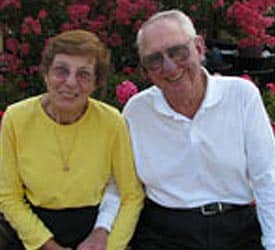 Harry & Joan McKinley
Harry & Joan are natives of Iowa, moving to California in 1959. Harry has been a meat cutter since 1944, starting in Iowa for Hy-Vee grocery stores. In California, he worked for Stop-N-Shop, leaving them to co-own a wholesale meat business. In 1977, Harry & Joan purchased Roseville Meat Co., retiring in 1995. Today, they enjoy golf whenever possible and time with the family.  Sadly, on May 15, 2012 we lost our dad to cancer.  He passed as he wished, surrounded by all of his family.  We will miss his guiding light and wisdom every day.
David Henry
David is a native of Pennsylvania, growing up in Virginia. After graduating college in 1979, David moved to California in 1980. After marrying Joyce in 1983, David joined Harry, Joan, and brother-in-law Phillip in the business.
Joyce (McKinley) Henry
Joyce is a native of Iowa, moving with Harry & Joan in 1959 to California. Joyce spent 32 years in state civil service retiring in 2005. Joyce has always been involved in the family business and now works full time along side of David.
Don Coppin
Don is responsible for all of our grinding operation, having ground several million pounds during his 29 years working at RMC. He previously worked for various T-shirt shops in the Roseville area. Don is a native of Newcastle, CA.
Dan Montoya
Dan is a master meat cutter, having been a butcher for 32 years and an RMC employee for 20 years, previously working in various grocery stores in the meat departments. He has been our lead manager for 3 years, responsible for all aspects of the day to day operation. He is a Sacramento, CA native.
Alfonso Montes
Alfonso is also a master meat cutter, having been a butcher for 25 years and an RMC employee for 8 years, having worked in Mexico and various grocery stores in the meat departments. Alfonso is married to Lourdes and is a native of Texas.
Lourdes Valencia-Milan
Lourdes is the primary wrapper and packager and has been an employee for 5 years. Lourdes previously worked in various Taquerías and restaurants as a cook. Lourdes is married to Alfonso and is a native of Mexico.
Hector Mendoza
Hector is a master meat cutter, having been a butcher for 10 years and an RMC employee for 4 years, previously working in various Mexican markets. He is a key employee responsible for multiple aspects of the day to day operation. He is a native of Los Angeles, CA.